Document information
| | |
| --- | --- |
| Document ID: | 4648 |
| Subject: | Notification/Quarantine Reports |
| Creation date: | 12/14/15 4:35 PM |
| Last modified on: | 1/18/22 9:47 AM |
Quarantine reports
Xeams can automatically send quarantine reports containing a summary of emails that have been quarantined for a user. This email contains the subject, sender and score of the actual message. Using this report, an individual can restore any message that is incorrectly quarantined by the system. They can also mark a message as good to prevent it from getting blocked in the future.
This report is sorted by score. Messages with a lower score have a higher probability of getting blocked incorrectly therefore, users only need to look at the first few messages. Messages that appear towards the bottom are almost always junk.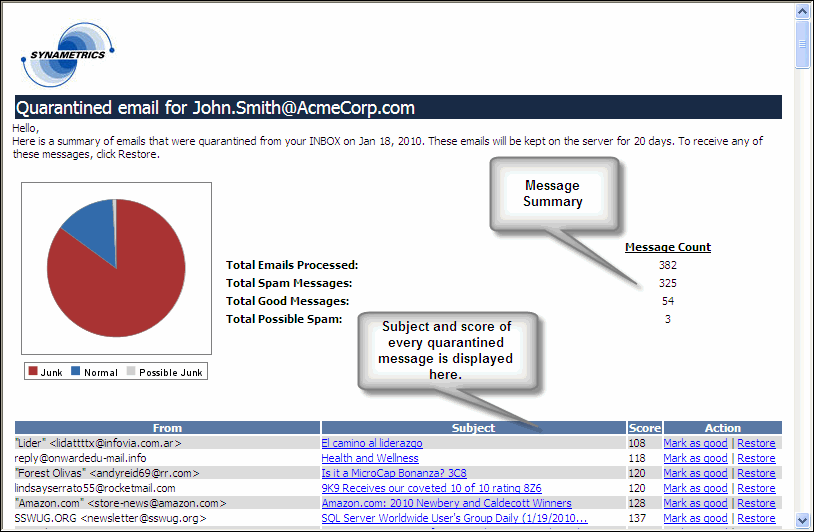 When are these reports sent?
By default, Xeams sends this report at midnight containing a list of emails that were quarantined in the previous day. Follow the steps below to change this default behavior.
Log in to Admin Console
Click

Manage Users

under

Server Configuration

Click

Edit

next to the desired user
At the bottom, specify the time(s) you want Xeams to generate this report. You can specify up to 5 different times. Refer to the image below:


Bulk modification
Follow the steps below to modify the report schedule for every user.
Log in to Admin Console
Select

Manage Users

under

Server Configuration

Click

Modify report

schedule towards the top

User comments
Posted by Alberto de_la_Torre on 10/2/14 11:15 AM
I found that I had to configure Forefront for Exchange as follows: Policy Management AntiSpam-Configure Configure Content Allow Lists Allowed Senders Added notifications@synametrics.com Don't forget to click save at the top of the page.
Add a comment to this document
Do you have a helpful tip related to this document that you'd like to share with other users?
Important:
This area is reserved for useful tips. Therefore, do not post questions here. Instead, use our
public forums
to post questions.