MS Exchange and DKIM
Signing outbound emails with a DKIM signature is a challenge in MS Exchange as it does not support this feature natively. One solution is to install third-party packages on your Exchange server that accomplishes this task. There are two problems using these solutions:
You have to create the public/private key manually
These plugins run inside MS Exchange's memory space. A minor bug in the plugin can bring the entire Exchange server down.
A better approach
Using the following instructions you can get up and running with DKIM in less than 15 minutes. Once completed, the outbound email flow will look like: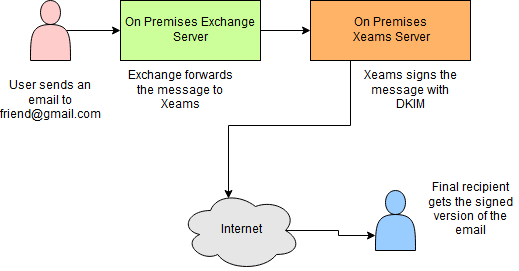 Install Xeams on any machine within your LAN. Although you can install it on the same machine as Exchange, a cleaner solution is to use a different machine.
Installing Xeams is just a matter of running setup.exe that you can download from here. The Community Edition of Xeams will suffice since you will not be using the filtering features of Xeams.
Setup Xeams in Stand-Alone mode and do not create any local users
Configure the SMTP server in Xeams to accept emails on port 25
Add Exchange Server's IP address among the IP addresses allowed to relay
Disable filtering Xeams by un-checking Enable Filtering option under Filter Management/Score Configuration
Select DKIM under Filter Management to create a DKIM signature. Refer to this page for details.
Configure the Send Connector in your Exchange server to forward outbound emails to the IP/Host name where Xeams is running
Related Links