Document information
| | |
| --- | --- |
| Document ID: | 4689 |
| Subject: | How to handle multiple domains destined for more than one server |
| Creation date: | 12/14/15 4:35 PM |
| Last modified on: | 8/10/18 2:33 PM |
How to handle multiple domains
Consider the following scenario:
You want to filter junk/spam messages for multiple domains
These domains are handled by multiple Exchange servers on the back-end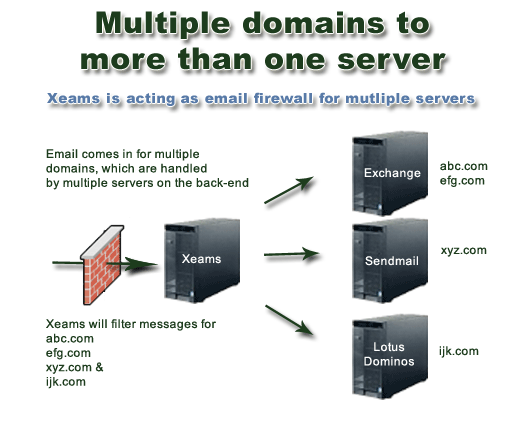 Setup Instructions
Disable SMTP Proxy server in Xeams and use the regular SMTP Server. The Proxy server cannot send message to multiple servers on the back-end. Click here to learn more about the differences between SMTP Proxy and regular SMTP Server.
When configuring domains for the SMTP server, you will have to specify the IP address where messages will go after filtering spam.
Ensure the Mode in Xeams is configured either for Spam Firewall or Hybrid
Multiple Profiles
Profiles in Xeams define a set of rules that will be applied on an email. By default, every message that comes in Xeams will be handled by just one profile. This is called the default profile. If you like, you can create one or more profiles each defining rules to handle one or more domains.
Click here
for more information about Profiles.
Add a comment to this document
Do you have a helpful tip related to this document that you'd like to share with other users?
Important:
This area is reserved for useful tips. Therefore, do not post questions here. Instead, use our
public forums
to post questions.