Product » A free email server for Windows and Linux » Knowledge Base
Document information
| | |
| --- | --- |
| Document ID: | 5335 |
| Subject: | Best Practice - Sending sample emails to our support department |
| Creation date: | 1/8/20 5:28 AM |
| Last modified on: | 5/19/22 11:56 AM |
Sending Sample Emails To Support for Analysis
It is often helpful to send sample email messages to our support department. This is useful when:
Xeams is not detecting the correct category (good/spam) for an incoming email
You're running into a bug or an unexpected behavior
Steps To Submit Sample Email
Following steps assume you're running into a situation where Xeams is not able to catch a spam message.
Search the desired message in Message Repository. Refer to searching tips for help on this topic.
Click the subject of the message to display its contents
Click Forward To/Xeams Support button on the right. Refer to the image below for a sample screenshot.
Self-Detection
If one or more messages go in the wrong category, it is very important to learn what made Xeams assign incorrect score. The easiest way to do that is to look at the reason. Refer to the image below for an example: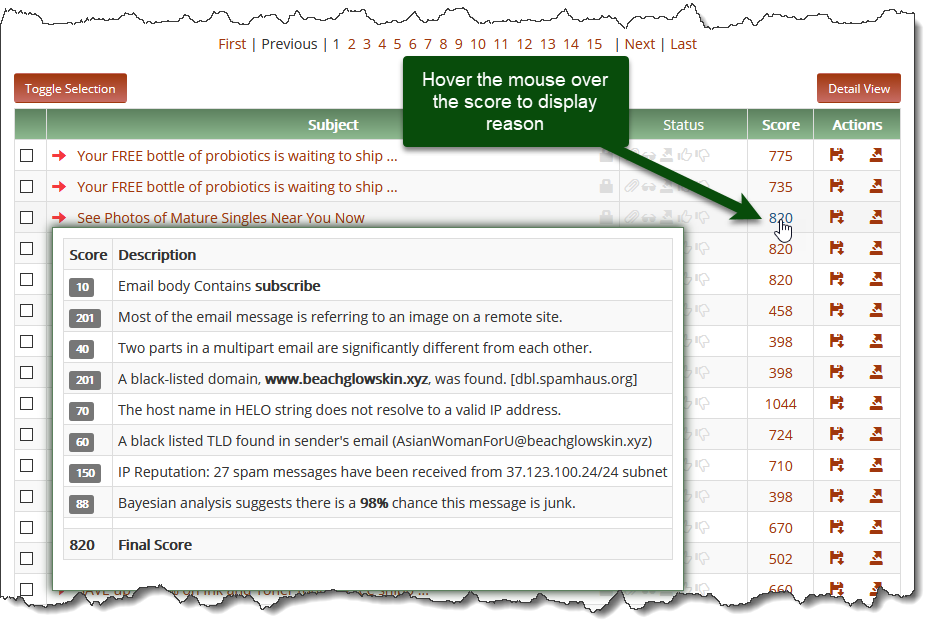 Add a comment to this document
Do you have a helpful tip related to this document that you'd like to share with other users?
Important:
This area is reserved for useful tips. Therefore, do not post questions here. Instead, use our
public forums
to post questions.