Document information
| | |
| --- | --- |
| Document ID: | 4607 |
| Subject: | Subscribing to a mailing list |
| Creation date: | 12/14/15 4:35 PM |
| Last modified on: | 4/6/22 10:07 AM |
Subscribing to a mailing list

There are two ways to subscribe:
The Xeams Administrator can add an email address manually
Users can subscribe themselves
Adding subscribers
Follow the steps below to add subscribers.
Log in to the Admin Console as administrator

Select

Manage Mailing List

under the

Server Configuration

menu
Click the

Edit

link next to the mailing list name
Type the subscriber's email address in

Add another subscriber

field
Click save. The newly added subscriber will appear below
Allowing users to add/remove themselves
Users on the Internet can subscribe/unsubscribe themselves by sending emails to special addresses. To enable this feature, check the
Allow users to subscribe
check box. Refer to the image below: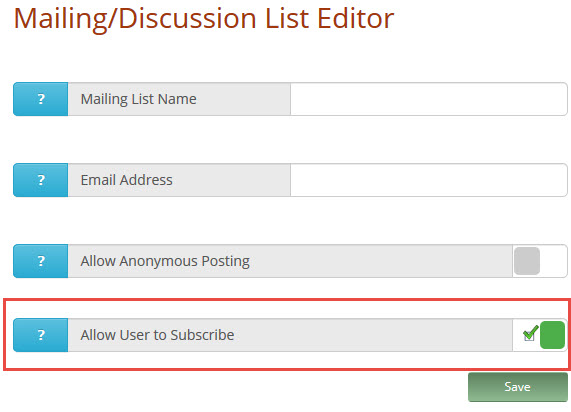 Once this option is enabled, users can send an email to:
subscribe-MailListName@YourCompany.com

to subscribe

unsubscribe-MailListName@YourCompany.com

to unsubscribe
For example, if you create a mailing list using
volunteers@helpingHands.org
, users can subscribe by sending a message to
subscribe-volunteers@HelpingHands.org
and remove themselves by sending a message to
unsubscribe-volunteers@HelpingHands.org
. This example assumes that
HelpingHands.org
is a local domain that is handled by Xeams.
User comments
Posted by Michael on 10/28/14 8:36 AM
Hi, It will be also nice to setup allowed domain to subscribe. So create new distribution list and add domains from with people can subscribe.
Add a comment to this document
Do you have a helpful tip related to this document that you'd like to share with other users?
Important:
This area is reserved for useful tips. Therefore, do not post questions here. Instead, use our
public forums
to post questions.