Improving Spam Filtering On Rackspace
Many companies host their email system on Rackspace, which is an excellent email hosting provider. If you're looking to add a premium spam/junk filtering solution for your inbound emails, Xeams offers an excellent choice that is affordable and feature-rich.
This page discusses how you could add Xeams into the mix and protect your user's inbox from unwanted junk emails.
Benefits Of Using Xeams
Here is a partial list of benefits
Nothing to install on your end when using Xeams Cloud.
Automatically block 99% of junk emails from reaching your inbox.
Unlimited emails per user.
Ability to specify white/blacklisted senders on a global as well as on a per-user basis.
Ability to specify whitelist newsletters and mailing lists on a per-user basis.
Ability to receive quarantine reports, allowing users to view and mark messages.
Ability to use temporary emails.
Ability to convert popular attachments to harmless text documents.
Automatic message archiving for 60 days, with lightning-fast searching capabilities.
No change in how your users send/receive emails. In other words, your business will not be interrupted.
US-based technical support via email or phone.
How it Works
The following diagram demonstrates a Before and After traffic flow with Rackspace.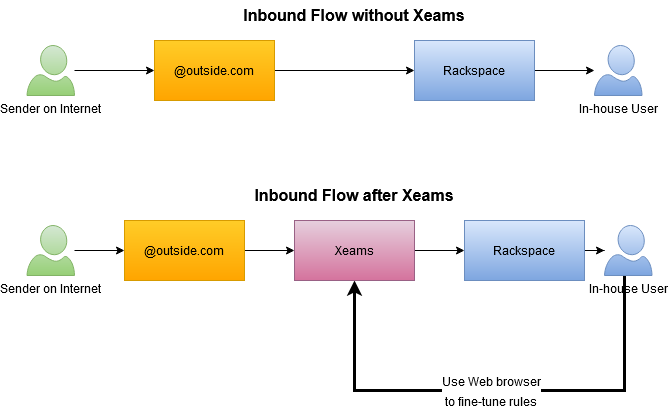 Technical Changes
You will have to configure the DNS server for your domain and modify the MX record so Xeams Cloud can get your inbound emails. Don't worry if you're unfamiliar with changing settings in your DNS server. Please send us an email or call our technical support for help.
How Do I Start?
Sign up for a 30-day trial for Xeams Cloud. No credit is required to use the service during the trial period.
Refer to our pricing for details.
Frequently Ask Questions
Will there be any disruptions to my emails during transition?
No. You will not lose any emails and users will send/receive emails as they normally do.
How will users send/receive their emails?
They will continue using the same tools that they currently use with Rackspace. This could be a web-based tool or desktop clients like Outlook or Thunderbird.