Testing communication » Troubleshooting inbound
How to ensure if a message is saved in the repository
Once a message is assigned a score, it gets saved in the
message repository
. You can search for desired messages in the repository using the Admin Console.
The easiest way to see if a message is saved in the repository to is to click
Message Repository
on the main menu.
Messages can be found using two methods:
Clicking on one of three links that appear on the top. Shown in the image on the right.
Searching messages
When you click on the links, Xeams will display every message that is received by the system in the last 3 days.
IMPORTANT: Although you can search messages in the repository, the search indexes are created at a 10 minute interval. Therefore, you may not see messages right away if you are searching them.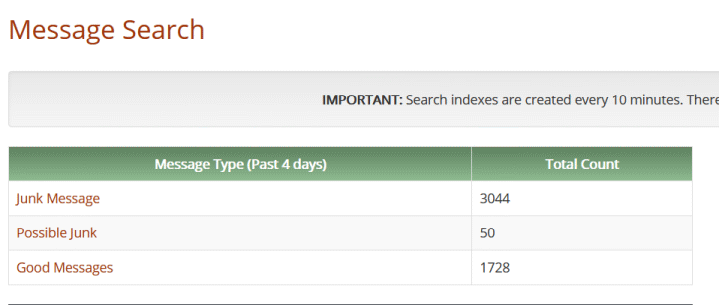 In the image above, you can click on the email category that displays all the messages received in that category.