Best Alternative to SpamTitan - Comparison with Xeams
Spam emails can be irritating and potentially harmful because it allows malicious actors to transmit malware through unsolicited attachments or spurious links. Therefore, installing an email filtering solution is advisable for personal or professional use. This article will help you choose one of the best spam filtering solutions you can rely on for your email protection.
How often have you experienced your email inbox getting filled with inconsequential messages? Yes, spam emails can significantly irritate you because these messages obscure your genuine emails. You might miss an important message amid the deluge of spam emails. Are spam emails dangerous? It depends on the contents of the email. Generally, spam emails or phishing emails themselves may not directly cause much harm to information systems. But, they can be harmful if they contain spurious links or malicious attachments enticing users to click on or download them. Hence, email filtering is critical to not only secure your inbox but also to protect your laptops, mobile devices, and enterprise network. This article will compare Xeams with TitanHQ and determine why the former could be a good alternative.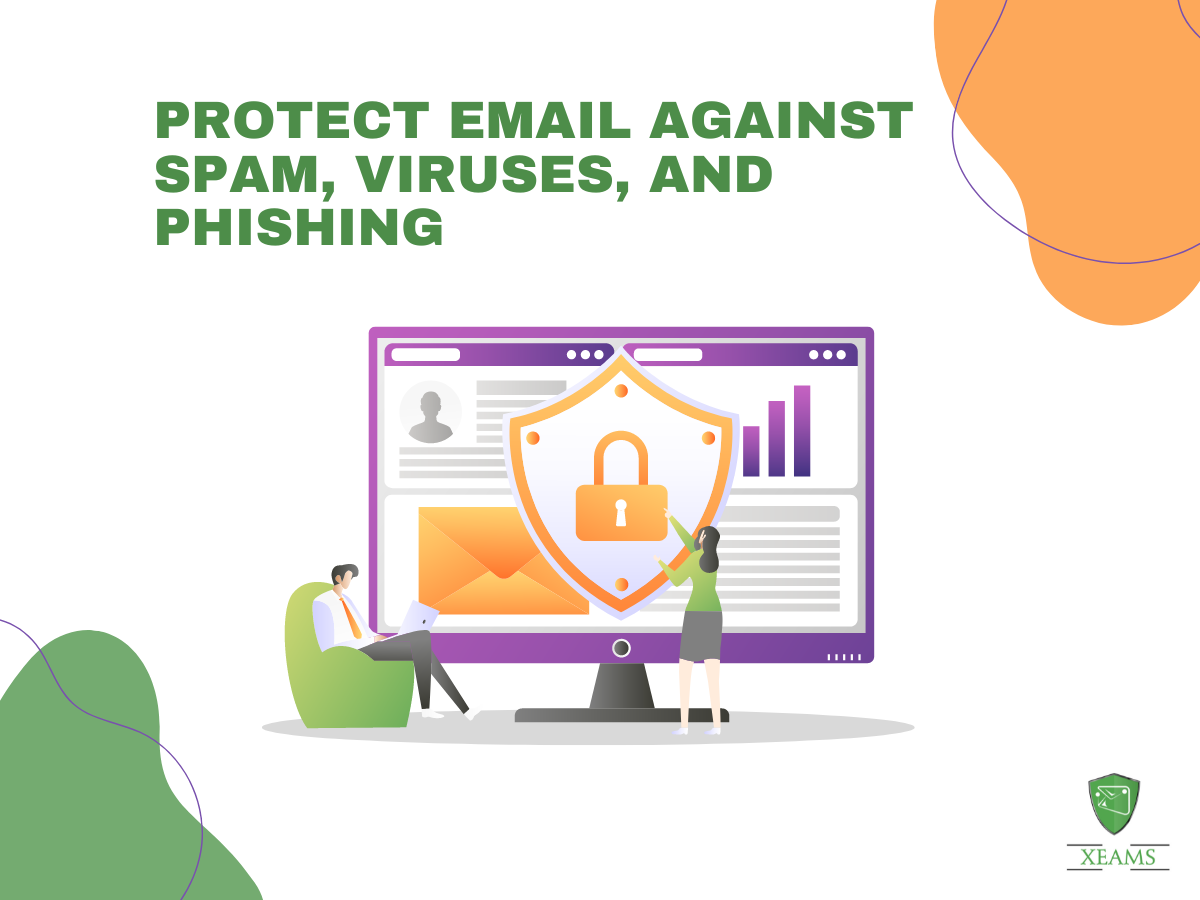 Some Eye-Opening Statistics and Facts About Email Protection
Though cybercriminals have made massive advances in infiltrating the victim's information network system, emails remain the prime conduit for introducing malware. So, email protection becomes critical to restrict their nefarious activities. Here are some statistics to drive home our point.
Why Is Email Security Crucial?
The natural question will be, why have email security if spam emails are not potentially dangerous? But, considering the stakes involved in business and the competition, it is better to be safe than regret it later. So, email security is essential because it provides the following protection to our information network systems.
Spam Filtering Solution: Spam filters segregate spam emails into separate folders. Thus, it allows your genuine business and personal emails convenient access to your inbox. Since the inbox is not crowded with unsolicited emails, you do not miss your important emails.
Phishing Protection Solution: Email filters are programmed to identify phishing emails depending on the email header, email sender, message contents, and attachments. Though some phishing emails might still pass through, these email filters block most malicious email content.
Malware Protection Solutions: Email filters can scan incoming messages and attachments for malicious links or software. They warn you about harmful content and, thus, protect your information network systems from malware infections.
While many solutions are available, we decided to compare TitanHQ and Xeams, the top-rated choices, and understand how they help secure our emails. They both offer the following services:
Fraud Detection: Both these email filtering solutions scan your emails, including the attachments and the links, and block threats if they find any. Thus, they protect you from fraud and scams.
Quarantine Facility: TitanHQ and Xeams offer a quarantine facility that allows users to isolate harmful viruses and other content and discard them. So it prevents the malware from infecting the system.
Reports and Statistics: Reports are essential for users to know the performance of these email filtering solutions. Besides, these solutions offer statistics, enabling users to gauge the threat level to their systems.
Compliance: Complying with regulations like HIPAA, GDPR, and others are essential in the US and the European Region. TitanHQ and Xeams ensure full compliance with these regulations.
99% Spam Catch Rate: TitanHQ and Xeams boast a 99% spam catch rate. Thus, they block almost all junk messages from reaching your inbox. Besides protecting your systems, it reduces traffic to your primary email server.
Key Features to Consider When Choosing the Best Email Filtering Solution
There are various anti-spam solutions available that are not created equal. Filtering spam does not only mean stopping productivity-draining emails from getting delivered. A good solution should offer protection from various email-based threats, scan inbound and outbound emails, and be easy to use, flexible and scalable.
Deployment options: There are various deployment options ? Cloud-based filtering is the easiest to deploy, while software-based solutions are a good match for the organizations that need privacy. Xeams provides a 100% in-house solution as well as a cloud version, allowing organizations to select best option for them.
The granularity of controls: Granular controls make it easier to tailor the solution to meet business needs. Xeams offers much more than a typical email filtering services. It offers a complete email solution that supporting POP3, IMAP, and SMTP protocols, built-in spam filtering, end-to-end encryption, providing multi-platform (Windows, Linux, UNIX, MacOSx, BSD) support, etc.
Flexibility and scalability: Will you get restricted to an inflexible contract? What will happen if you expand or downsize? Can you scale up the solution easily or do cost-cutting if forced to lay off staff? These are the crucial questions you must answer.
Latest Technologies: Besides whitelisting and blacklisting, the solution must use adaptive filtering mechanisms that continuously learns and improves its capabilities as the system is used. Apart from the above technologies, Xeams implements Sender Policy Framework (SPF), Domain-based Message Authentication, Reporting and Conformance (DMARC), and DomainKeys Identified Mail (DKIM) for 100% email security.
Ease of Use: Consider the time your IT department will spend managing the solution, tweaking controls, and performing upgrades, and factor it into the overall cost. Installing Xeams is straightforward because it does not involve installing any other software or database. Users can refer to the 100% web-based interface to work on Xeams. Integrating user accounts with Xeams is a seamless affair.
Take advantage of free trials: A free trial of the spam filtering solution may be available. Try it before you buy to get hands-on knowledge about the solution's ease of use and functionality. Xeams is available in two editions - Community and Enterprise (On Premise and Cloud), and the community version is free.
The Key Differences Between TitanHQ and Xeams
Besides many similarities between TitanHQ and Xeams, there are a few key differences that you must know in order to make the right choice.
Features
TitanHQ
Xeams
Company
by TitanHQ
by Synametrics Technologies
Free Versions
Only available as a 14-day free trial
The community version is free and Enterprise is available for 30-day trial.
Pricing (100 users)
$1,518 (SpamTitan)
$5,511 (ArcTitan)
$??? (EncryptTitan - not published)
$7,029/year excluding the cost of EncryptTitan.
$800/year including email filtering, archive, and end-to-end encryption. This is almost 90% saving.

While TitanHQ offers its products separately, Xeams has a single product with all the features built-in.
Deployment
Only available as a gateway for filtering junk.
Can be used as a gateway or full email server.
Support Platforms
On-prem solution only available as a VM
On-prem solution available via VM, or installer for Windows, Linux and Unix.
Plugins
End-To-End encryption is available using a separate product.
Plugins available for:
Logging
3 types of logs available.
Over 50 different logs are available.
Why is Xeams One Integrated Solution and A Better Alternative to TitanHQ?
Besides ticking all the boxes in the requirements of a state-of-the-art filtering solution, Xeams offers a few exclusive features which make it a preferable choice:
Xeams has a better ROI because it offers a single product with various in-built features. In contrast, Titan HQ offers three different products individually priced. Hence, Xeams is significantly less expensive.
Xeams is a comprehensive solution and has also been rated as one of the top 9 email spam filters available in the market.
The integrated graphical reporting feature enables perfect reporting and provides a single management point for better security governance.
Xeams offers protection to inbound and outbound emails. It archives every email message (inbound and outbound), making it convenient to set up an audit trail and retrieve any message whenever the organization requires it.
Xeams has a transparent pricing structure and does not have any hidden costs. The trial version is easy to use. Besides, it helps users acclimatize to Xeams' functioning.
Xeams provides precise reasons why a specific email got blocked, allowing administrators to fine-tune filtering rules.
US based support staff that is easily reachable via email and/or phone.
Besides, Xeams has all the key features to consider when choosing the best email filtering solution, as mentioned in the paragraph above.
Conclusion
Today, people extensively use emails for business correspondence. Similarly, email marketers use the email route for marketing their products and services. Malicious cybercriminals also use email to transmit their malware. As a result, your email inbox gets clogged with numerous emails, whereby you can miss out on an important business or personal email. Therefore, email filtering solutions are essential to filter unsolicited emails to a separate inbox and clear the clutter in your primary inbox. From the above discussion, we believe Xeams is one of the best solutions available in the market and could be one of the best alternatives to TitanHQ. Besides filtering your unwanted and spam emails, it offers 100% protection from phishing emails, malware, and other cyberattacks.